Charlotte Child Custody Attorneys
Helping Parents With Custody Matters in Charlotte, NC

​Reaching a child custody agreement can sometimes be complicated for both the adults and children involved. With the right legal team, you can reach a win-win agreement and potentially change your relationship with your spouse for the better. Let our child custody lawyers in Charlotte support you through your child custody case.
There is a lot at stake with child custody cases as the outcome can impact your future relationship with your child(ren). North Carolina has specific laws on how to divide custody between parents who do not live together. Once a child custody order is issued by the courts, it is critical to comply with the arrangement. Parents have the option to agree on a custody arrangement together without legal assistance, although if they cannot agree, the court will decide on a custody arrangement for them.
On This Page:
---
Facing a custody issue in North Carolina? Contact our Charlotte child custody lawyer online or call us at (704) 286-0570 today.
---
When Does a Child Custody Issue Come Up?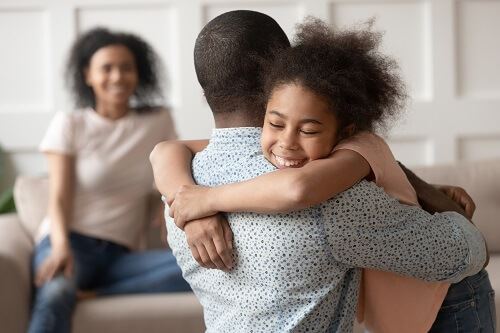 Child custody cases arise in different situations, such as:
As part of a divorce case where both parents share biological child(ren)
As part of a case where legal paternity of the child needs to be established
When one parent wants to modify an existing child custody order
Types of Child Custody
First, it is important to understand the distinction between physical custody and legal custody:
Physical custody
This refers to the time each parent gets to physically spend with their child and how the child will divide his/her time between the two parents' homes. This also refers to the actual location where the child will live, not counting the visitation days at the non-custodial parent's home. In custody proceedings, a judge will never rule based on gender alone. If paternity is rightfully established, both the mother and father have equal opportunities for physical custody.
Legal custody
The other aspect of custody sets out each parent's right to make important decisions for their child. These include decisions regarding healthcare, religion, education, and more.
There are also different ways to divide custody, including joint custody or sole custody. In most situations, parents will share joint physical custody of their children. One parent might have primary custody while the other has secondary custody, although they both get to spend time with their child.
Sole custody is awarded in cases involving extenuating circumstances. Such circumstances include:
One parent has a substance abuse problem that prevents him/her from caring for the child
One parent has engaged in child neglect, physical abuse, sexual abuse, or emotional abuse
One parent is incarcerated
The parents live too far away from one another for shared custody to be reasonable
How Custody Is Determined In North Carolina
North Carolina law requires that all custody determinations be based on what the court finds to be in the best interests of the child. Many states have a presumption that shared custody is in the best interests of the child, though this is not the case in North Carolina. Instead, the court will review each situation on a case-by-case basis to determine what type of custody arrangement is appropriate.
There are many factors that the court will examine to decide what is in the best interests of the child, such as:
The child's existing relationship with each parent.
The child's specific needs, including any special needs.
The child's attachment to the family home, community, other family members, and school.
The child's preferences - if they are old and mature enough to express them.
Any disabilities of a parent that prevent them from caring for the child.
If either parent has a history of abuse or substance abuse problems.
Other reasons why a parent might put the child's health or wellbeing at risk.
What Is Emergency Custody?
Emergency custody may be necessary, and even crucial, in some family law cases. Under North Carolina law and N.C. Gen. Stat. § 50-13.5, a temporary custody order can only be entered if "the court finds that the child is exposed to a substantial risk of bodily injury or sexual abuse or that there is a substantial risk that the child may be abducted or removed from the State of North Carolina for the purpose of evading the jurisdiction of North Carolina courts." If the judge enters the custody order, then a hearing is held where the judge will evaluate determines that the conditions have been met, a temporary custody order will be in place until either party wants to pursue permanent custody. If you think that you may have grounds for emergency custody, contact one of our Charlotte child custody lawyers today.
Modifying a Child Custody Order
If you have an existing child custody order that you need to change, you can request a modification. If both parents agree on the modifications, they can present them to the court to obtain a new order. However, if one parent challenges the modification, the court will rule on whether the modifications are in the best interest of the child and if there was a substantial change in circumstance to warrant the modification.
How to Determine if a Parent is Unfit
During child custody decisions, judges will often evaluate the fitness of a parent. The "fitness" of a parent basically means that they have the intent and ability to put the child's best interests first. They prioritize their children's well-being over their own. If a judge suspects the child is endangered due to the actions of the parent, they may be deemed as unfit and have certain rights stripped such as visitation.
Several determinants that a judge looks for include:
Has the parent shown a willingness to be part of the child's life and make important decisions for them?
Has the parent had a history of mental health issues that prohibits them from carrying out their role as guardian and provider?
Has the parent shown a history of alcohol or substance abuse?
Has the parent been charged with domestic violence or have a history of abuse towards the child or mother?
Importance of Establishing Paternity
In North Carolina, an unmarried couple will have legal problems associated with custody and visitation if paternity is not established in an appropriate timeframe. As a father, you may miss out on rights to see your child if the state sees the mother as the sole custodian. There are four general methods to establishing paternity:
Both the father and mother are married prior to the child's birth
The father and mother marry shortly after the birth of the child
The parents sign what is called an Affidavit of Parentage which can be done at the hospital or birthing center
One of the parents files a lawsuit to have paternity established. Usually, fathers will sue for the rights of custody and visitation, while mothers sue to obtain child support payments.
Consult With Our Child Custody Attorney in Charlotte Today
At Blood Law, PLLC, our Charlotte child custody lawyers understand the importance of obtaining a custody order that puts your child's interests first. We have the experience, skill, and patience to help you determine what choices are in the best interest of your child and your family.
Related Reading:
---
Contact our Charlotte child custody attorney online or give us a call at (704) 286-0570 to learn more about our child custody services.
---
Our Clients Tell Their Stories
These Stories Are What Keep Us Going
"She cares about you as a friend, not just as a client. I highly recommend Anna Blood and her legal team as they are INCREDIBLE and a winning team of pros!"

Debra K.

"Anna is an extremely trustworthy and understanding individual, which is very beneficial to any sticky family law situation you may find yourself dealing with. She is very attentive and focused on ..."

Sean F.

"Anna and her team is such a joy to work with! Not only is she extremely talented, she is down to earth and understanding which is a really important quality when communicating with clients. She will ..."

Jennifer W.
Our Promise to Our Clients

Convenient Locations

With offices in Charlotte, Waxhaw & Lake Norman, we make it easier for families across North Carolina to find quality counsel.

Children Come First

With the complexities of family law, we put the well-being and safety of your children at the forefront of your case.

Team-Driven Environment

When you work with Blood Law, PLLC, you work with our entire team. Everyone is here to support you through each step.

Honest Guidance

We create personalized plans for each client while setting realistic expectations on the possible outcomes of the case.
Take the First Step
Schedule Your Initial Consultation