Property And Debt Division
Charlotte Property & Debt Division Lawyers
Legal Counsel for Residents of Charlotte, Waxhaw & Lake Norman, NC
Prior to filing for a divorce, it is important to understand how the laws in your state pertain to the division of property and debt. Our debt division lawyers are passionate about fighting for our clients to seek a favorable outcome.
While it is always encouraged for both parties involved in a divorce to try and reach an agreeable outcome, we understand that this is not always possible. In the event both parties are unable to agree on all matters related to property and debt division, a judge will intervene and divide the assets according to state law.
Concerned with how your property will be divided in a North Carolina divorce? Contact our Charlotte property and debt division attorney online or at (704) 286-0570 for expert legal assistance.
Understanding Property Division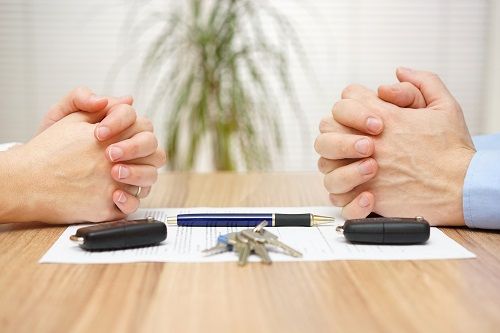 It is important to understand what can be divided during the property division process. While you may want to hold onto as many assets and possessions as possible, understand that loss is part of the process. To understand what you may have to divide, you will need to know the difference between marital and separate assets and property.
If you owned any property prior to the marriage, have inherited property, or have received a gift from someone besides your spouse, those items are called separate property and will not be divided in the divorce process. If you and your spouse purchased any property, inherited any property, or bought gifts for each other while married, these are considered marital property and will be divided in the divorce process.
Divisible property includes property that was acquired after the date of separation, passive income generated by marital property, and post-separation increases in marital debt.
How a Judge Determines Property Division: Equitable Distribution
In the event you cannot agree with your spouse on matters regarding property and asset division, a judge will need to do so for you. When family court judges rule on property division issues they apply a principle of law known as equitable distribution. This requires them to divide a couple's property in a way that is fair and equitable. This does not mean that property is always divided equally. To make these determinations, certain factors are considered, including:
The duration of the marriage
The liquidity of the marital property
The age and health of each spouse
The income, debts, and assets of each spouse (at the time of the divorce)
If one spouse made financial contributions to support the other's education or career
Debt Distribution
To claim that debt is marital, and therefore subject to being divided between both spouses, the spouse claiming marital debt must prove that the debt was:
Acquired after marriage but before the date of separation
Incurred for the benefit of both spouses
If you are facing a divorce or other family law matter and need assistance navigating property and debt division, it is important to have an experienced Charlotte property division attorney to help protect your rights and provide you with guidance.
Who Gets the House in a NC Divorce?
Before a North Carolina judge will determine this, he or she may evaluate whether the home is a marital asset, separate asset, or a mix of both. If the house is considered marital property, meaning the couple was married during the purchase, there are three common scenarios that could occur:
One of the spouses mutually agrees to leave the place of residence, especially if it's in the best interests of their children.
There is a mutual agreement to sell the house and split the revenue. This is a popular option if one spouse cannot buy out the other.
Neither spouse wishes to leave the home, resulting in possible court hearings. Often, people will resort to gaining evidence of fault against their spouse, so they can increase their chances of staying in the house. In rare occasions, filing for a protective order against a violent spouse is necessary, and can quickly force them out.
Contact us onlineor call us directly at (704) 286-0570to learn more about our property and debt division services in North Carolina.
Our Clients Tell Their Stories
These Stories Are What Keep Us Going
"She cares about you as a friend, not just as a client. I highly recommend Anna Blood and her legal team as they are INCREDIBLE and a winning team of pros!"

Debra K.

"Anna is an extremely trustworthy and understanding individual, which is very beneficial to any sticky family law situation you may find yourself dealing with. She is very attentive and focused on ..."

Sean F.

"Anna and her team is such a joy to work with! Not only is she extremely talented, she is down to earth and understanding which is a really important quality when communicating with clients. She will ..."

Jennifer W.
Our Promise to Our Clients

Convenient Locations

With offices in Charlotte, Waxhaw & Lake Norman, we make it easier for families across North Carolina to find quality counsel.

Children Come First

With the complexities of family law, we put the well-being and safety of your children at the forefront of your case.

Team-Driven Environment

When you work with Blood Law, PLLC, you work with our entire team. Everyone is here to support you through each step.

Honest Guidance

We create personalized plans for each client while setting realistic expectations on the possible outcomes of the case.
Take the First Step
Schedule Your Initial Consultation